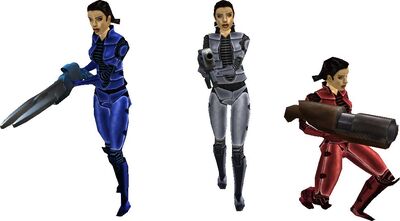 Major is a female marine.
Background
Edit
Major used to be a soldier of the United Space Army (U.S.A.) in the years of 2331 and 2343. She showed strong masculine traits as well as determination, making her one of the top space marines. During a mission on Corynthia she was captured as a prisoner-of-war, subject to torture and was almost executed. Just before the execution she was asked if she wanted to live. As she answered yes, a portal opened up and took her into the Arena. Her excellent weapon handling and extraordinary strength make her a difficult opponent.
Technical details
Edit
JKM Makowka modeled and skinned her ages ago and released it under the GNU GPL, leileilol animated and exported her ages later.